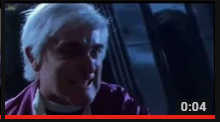 I Kick Ass for the Lord! – From Peter Jacksons ace zombie flick … Brain Dead (sometimes called "Dead Alive" depending on where you live)
To download clip HERE


Brain Dead is one of my favourate all time films. Its a horror comedy with tonnes of gore, and funny one liners. Watching this film you wouldn't know the man responsible for this Peter Jackson, went on to direct the lord of the rings trilogy. Jackson directed "Bad Taste" a low budget B grade film and then went on to do "Meet the Feebles" and thirdly "Brain Dead"
Brain dead centres around Lionel and his elderly mother Vera. Lionel is single and meets a nice young Spanish woman who works in the local grocery shop. Vera takes offence to her son hanging around such a womean and follows them on their first date to the zoo. Vera is bitten by a Sumatran zombie rat and is infected by a zombie virus. The result is her hilarious and disgusting down hill slide, where she infects others. Lionel is left to deal with the outbreak as best he can.
"I kick ass for the Lord" is from one particularly entertaining scene where a priest takes on a horde of zombies in a graveyard.
The gore in this film is over the top. Meaning its not for everyone. If you can handle a bit of gore this film will entertain you and make you laugh. It has loads of action and one of the goriest final sequence scenes in all of film history. Its the ultimate B Grade film in my opinion.
Be sure to check out https://www.vidcomment.com for more cool articles like this one!