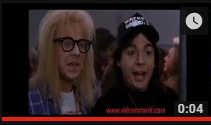 Schwing ! – The immortal salute to righteous looking ladies from Wayne and Garth from the movie "Wayne's World"
To download clip HERE


Wayne and Garth run a late night music show on cable television to a small but committed following. Their show is nothing to be taken too seriously but it does attract the attention of a TV executive looking to broaden their scope. Wayne and Garth decide to go for it and ramp up production of their show into a professional format. While the pair are out celebrating they see the band "crucial taunt", which features the beautiful Cassandra.
And just like that … Schwing Wayne makes it his mission to win Cassandras heart. There is of course one obstacle. Cassandra has also caught the eye of sleazy record company executive Benjamin, who has looks, suave, money and clout. Can Wayne hook up with Cassandra? Can the pair of them Take the show to the next level? Well the only way to find out is to watch the movie!
Wayne's World is a great movie to watch with mates, its a light hearted comedy that's easy to follow with a great hard rockin' soundtrack to go with it. The movie features cameo's from Alice Cooper, Ed O'neill and others.
Be sure to keep checking back as often as you can to https://www.vidcomment.com for more great content