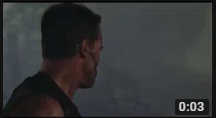 "If it bleeds we can kill it". Deep in an Asian Jungle, Dutch (Arnie) and his troops are being killed off one by one by an Alien Predator. Dutch strikes a blow for team human and realizes the Alien Hunter can be injured or killed.
Download Link | You Tube Link |
To download clip HERE


"If it Bleeds we can Kill it" is the line when Arnie discovers the extra terrestrial terror chasing them down for sport is in act able to be hurt and killed when she sees its blood splattered on the native jungle leaves. Filmed in 1987 and starring Arnold Schwarzengger this is widely hailed as a classic of the action genre. All the usual tough guy cliché's and dialogue are present in this film. Great special effects, loads of violence and a very reasonable plot to boot!
Arnie stars as Dutch, the leader of a mercenary group who volunteer to rescue American soldiers from an Asian jungle. They find out theyre in for a hard time when one by one, troops are picked off by the alien hunter. Can any of the troops survive and stop the predator? Watch and find out! Predator is a simple film and easy to follow with a few beers or friends around. Its fun fast paced and in my opinion a perfect action film!
Predator was filmed on a budget of $15m USD and returned over $90m at the box office. This film cemented Arnie's legendary status in the action film genre. Predator has since gone on to spawn sequels in the predator series and the crossover alien v predator series.
Be sure to keep checking http://www.vidcomment for more cool content.